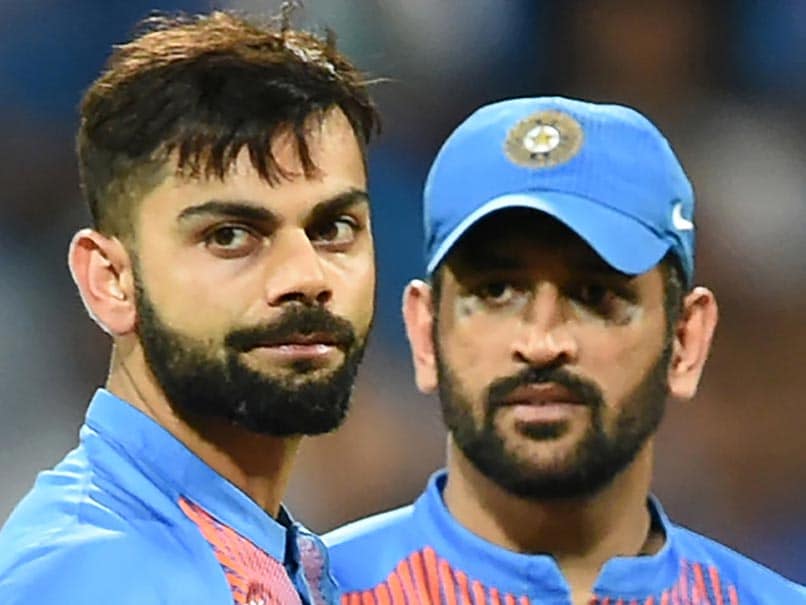 File photo of Virat Kohli and MS Dhoni© AFP
One of the fittest cricketers the game has seen Virat Kohli is a livewire on the field. Even when it comes to running between the wickets, Kohli converts ones into twos with relative ease. The superstar batsman has also shared the pitch with some of the fittest cricketers of all time, one of which is MS Dhoni, When it comes to running between the wickets, there's arguably a better runner than the Ranchi-born wicket-keeper batsman. However, Dhoni isn't the 'fastest-runner' Virat Kohli has run with so far in his cricketing career.
In a chat with AB de Villiers on'The Quick Singles', Kohli was asked about the 'fastest runner' he has run with in his career. Kohli went on to pick the former South African batsman.
Kohli said: "I've been asked this question before. AB has been by far the fastest I've run with between the wickets. The only other guy I've had so much coordination and understanding with is MS (Dhoni). don't know about the speeds, but he and MS, I would not even need to call.
When AB de Villiers was asked the same question, he went on to pick compatriot Faf Du Plessis,
"Mine is controversial as well," De Villiers said. "He's the best runner I've run with as well, it's Faf. But he's run me out at least seven times in my career. We've had some worst misunderstandings."
During the chat, Kohli was also asked about the 'worst runner' he has run with between the wickets. His answer to the 'controversial' question was Cheteshwar Pujara,
"It was a Centurion Test match on the tour of 2018. He was run out in both the innings. Pujara was run-out in the first innings of the Centurion Test and I said, 'It's OK', such things happen in cricket; Cheteshwar Pujara played a shot in the second innings and called Parthiv Patel For 3rd run, Pujara himself was running towards the danger end and he got run-out again and that too by a big margin. When the replay was shown there was no one on the screen, just Quinny taking the bails off. I was like you have run yourself in the first innings how can you be so brave to take on the fastest man on the field and then not be seen in the frame when the replay is shown. I was like my god. That is the worst call I have seen in my life," Kohli explained the decision after picking Pujara.
Topics mentioned in this article